The following items are on sale from September 21-27th. Below you will find the sale listings as well as our recommendation on purchasing.
Free Sample of the Week
This is for a single (not the five stack) mount speed boost. We've heard these are useful for free players in the Ettenmoors for quick getaways from pesky creeps. If they're good for anything else, I am not aware of it but hey, it's free!  Pick it up for free with coupon code MSB912.
Limited Release: Helegrod Cosmetic Gear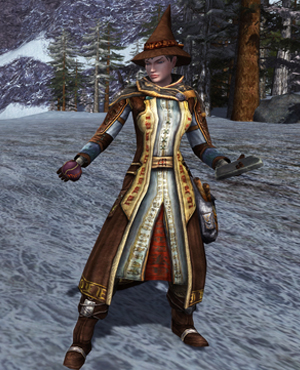 Now until October 4th  you can pick up Helegrod raid cosmetic armor in the LOTRO store.
These items are not actual armor, just cosmetic versions of these sets to allow you to get the look.
Pieces sell for 295 Turbine Points each or 1,295 Turbine Points for a full set (6 pieces) which ends up to be around a 27% discount. There is a set available for each class but you don't have to stick to your specific class when purchasing.
I think it's probably also good to note that you can earn this gear in game should you and your friends venture into the Helegrod dungeons and they are available for purchase from Skirmish vendors.
See all photos of the gear set on the LOTRO announcement.
Weekly Store Sale

Legendary Slot Unlock
Level up and unlock an additional Legendary Item Slot in your Legendary Item panel! 2 Unlocks available! Once an item is slotted, you can then further upgrade your Legendary Items by using Legendary Tier Upgrades, Legacies and more from the LOTRO Store!

Store Location: Character → Character Upgrades → Legendary Slots
Levels: 50+

295
222
CSTM RECOMMENDATION: All characters get six slots to put legendary items in but sometimes you need more. Legendary Item slots 7 and 8 two extra you can purchase if you feel you need some more legendary items working at once. The unlock is per character, not account and is for characters level 50+.
---

Legacy Tier Upgrades
Get greater bonuses! Upgrade the Tier of any Legacy on a Legendary Item with this scroll.

Store Locations: Goods & Services → Legendary Items → Scrolls
Levels: 50+

295
222
CSTM RECOMMENDATION: A Legacy Tier Upgrade will upgrade one legacy on your legendary item one tier. These items are per character and will only upgrade one legacy on one legendary item.
This is what in-game is called a Scroll of Empowerment. There are different varieties in game based on the level of your Legendary Item but they are all named similar. For example a level 75 legendary item simply needs a Scroll of Greater Empowerment. These items are available in game from skirmish camps and barter tokens if you prefer to get it via an in-game method.
---

+5,000 Enhanced Reputation Supply
Gain a bonus to all earned faction reputation until a total of 5,000 bonus reputation has been added. This bonus does not have a time limit, and only expires when the 5,000 bonus reputation points have been depleted.

Store Location: Buffs & Boosts → Advancement → Reputation
Levels: All

225
169
CSTM RECOMMENDATION: These are one of those convenience items that gives you a shortcut without the grind. These get a meh simply because it's not necessary. You can get through the normal in-game methods.
Read more about the Enhanced Reputation Supply item in Merric's Store Explorer post!